BYU football uniforms through the years
It's Thursday and it's June, so that gives us a good reason to have a throwback day and take a trip down memory lane and look at the history of BYU's football jerseys over the years.
Let's roll.
Pre-1922 – Brigham Young Academy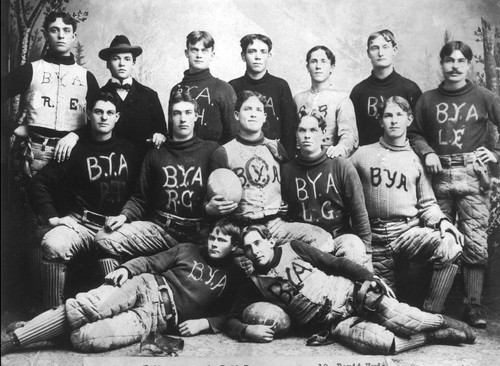 The beginning (1922-1935)
Ah, the days when Boney Fuller was a legend.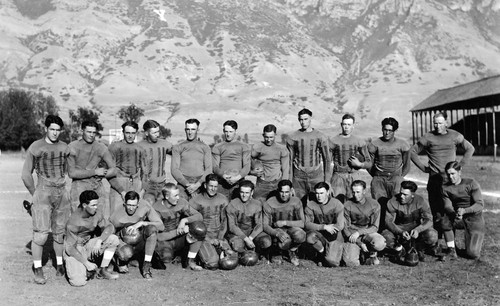 1937-1939; 1942-1947
These leather helmets were classy for their day.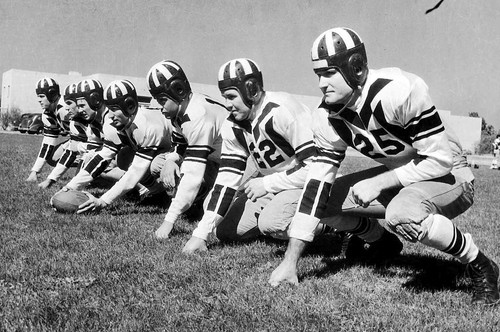 1940-1941
Orange uniforms. Yes, BYU had orange uniforms for a brief two-year stretch in the early 1940's.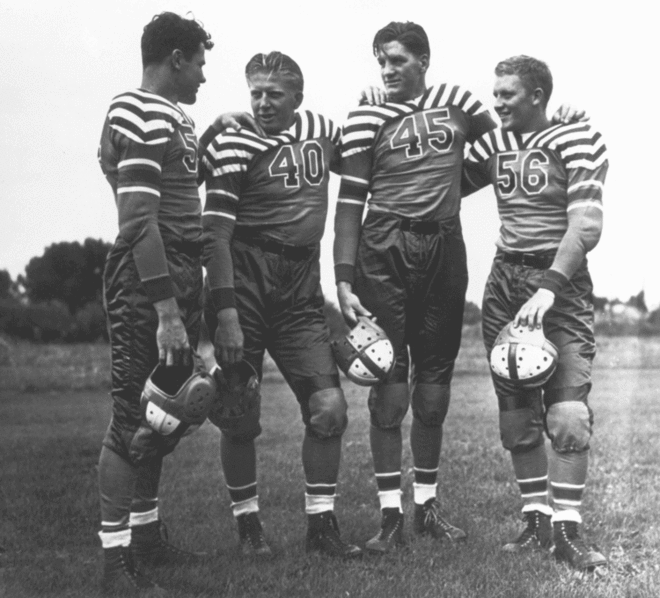 1947-1954
This is when you start to see the uniform evolve into the signature looks BYU has had over the years. The helmet was white with a blue stripe down the middle. Very Penn State of them.
1955-1960
Gray helmets were used during this stretch and for a few years there were numbers on the side.
1961-1962
The Eldon Fortie years had a unique helmet design.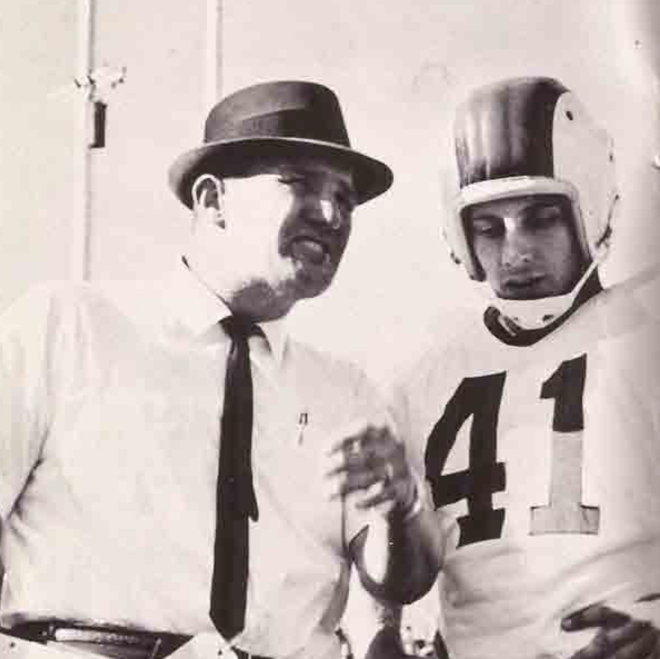 1963-1964
QB Virgil Carter started to make a name for him self in these blue helmets with numbers on the side.
1965
The numbers were removed in favor of a solid blue helmet. This was the season that BYU won their first conference championship.
1966-1968
Navy blue helmets with a white oval Y. BYU has made replicas of this helmet for fans to purchase in recent years.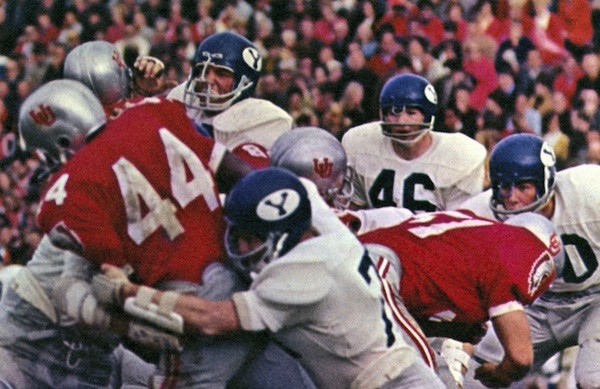 1969-1977
A blockier oval Y and stripes are back on the uniform as BYU's identity on the gridiron starts to come into focus with these uniforms.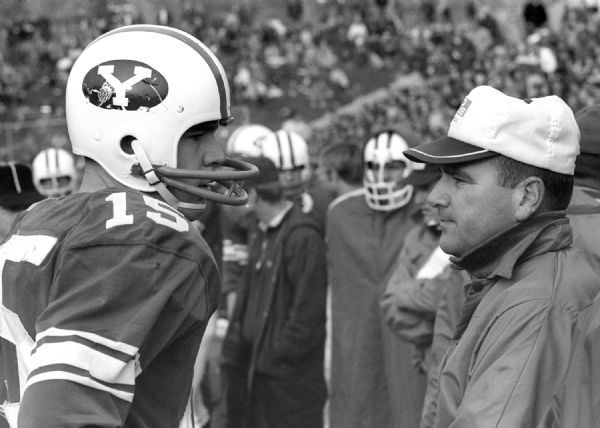 1978
No oval, just the Y. These helmets were only worn for one regular season. Emphasis on regular season because these helmets were dumped in the 1978 Holiday Bowl.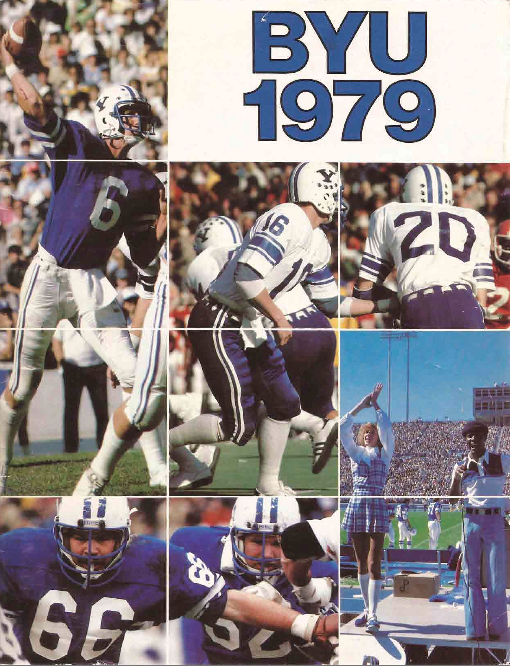 1978 Holiday Bowl – 1987
The classics and the jerseys that put BYU football on the national map.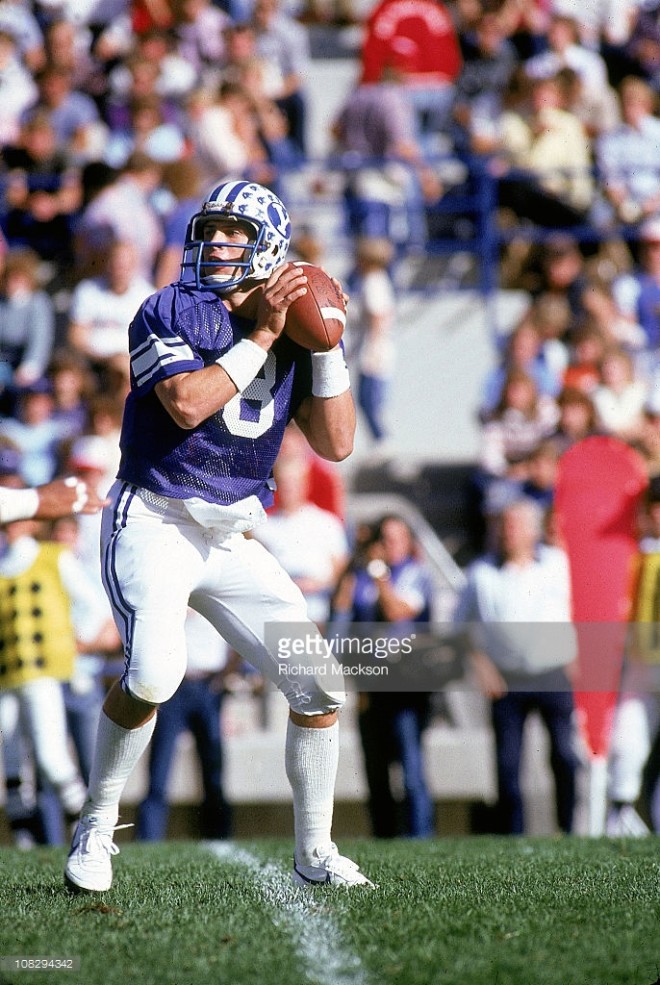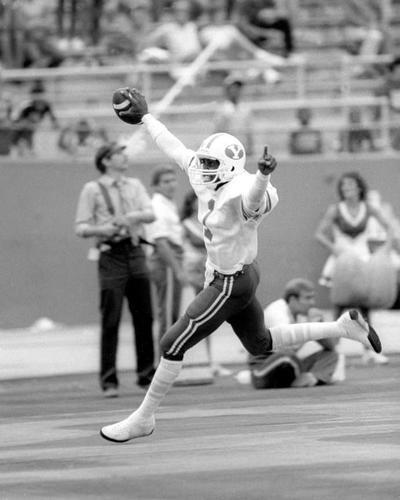 1987-1992
Mesh jerseys were a thing of the past and so were the NCAA passing records before Ty Detmer stepped on campus in Provo.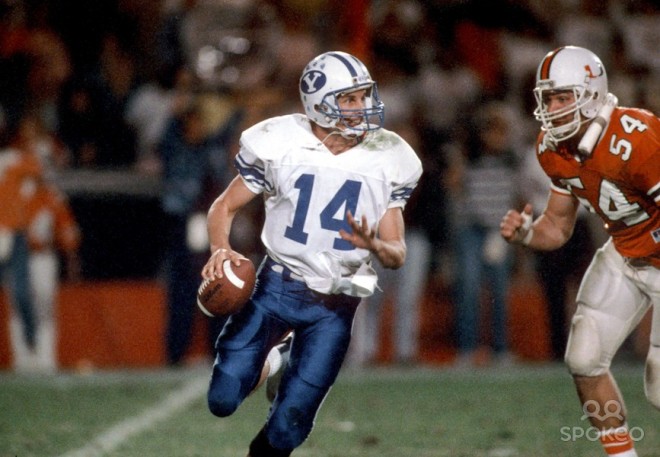 1993-1994
The 1993 season saw helmet decals go away and tiny hints of black started to appear on the jersey.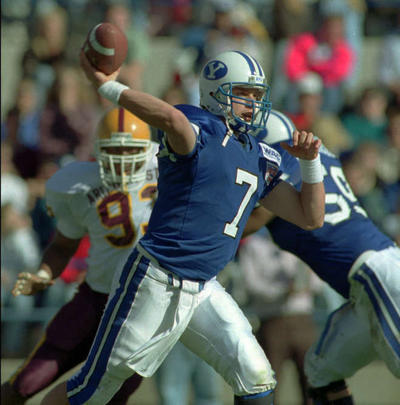 1994 Copper Bowl-1995
These jerseys debuted in the 1994 Copper Bowl against Oklahoma and were worn with the old pants that had the stripe down the side.These jerseys were made by Champion brand with a block Y added to the collar and the pants were just a solid color.BYU even debuted an all-blue look at home during this season.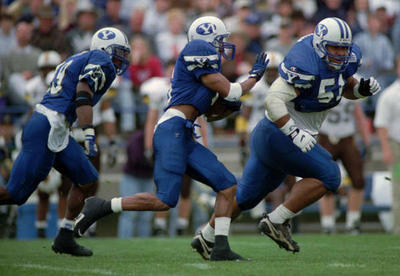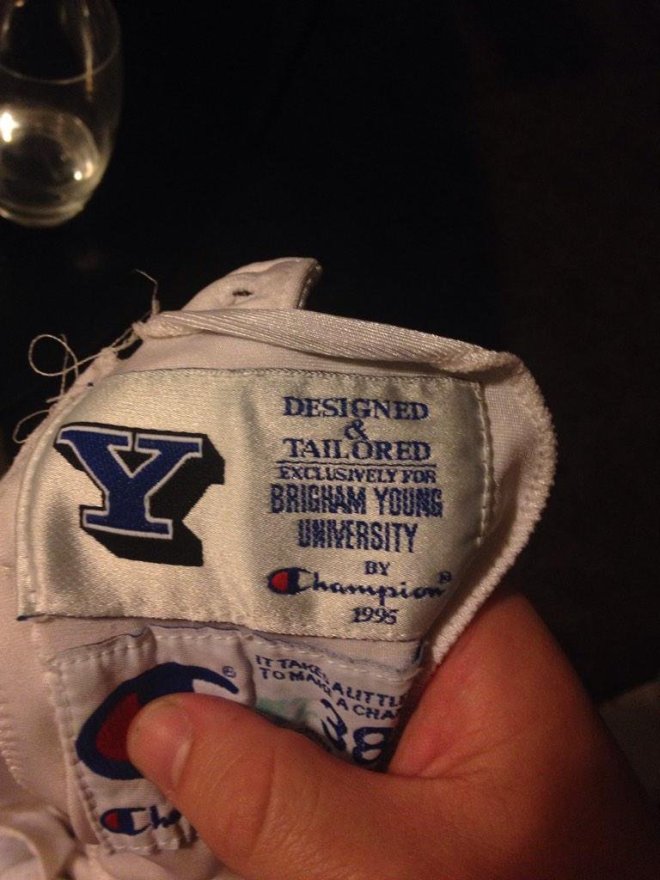 1996-1997
The Nike era begins at BYU.Bringing the swoosh into the picture brought a little bit more swag to BYU.At times, there was too much swag as the Cougars argued which socks to wear in an eventual loss to Washington in Seattle in 1996.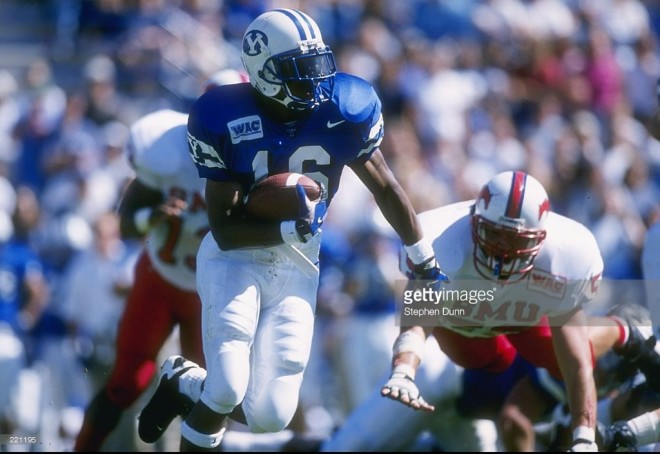 1998
Black stripes everywhere.Also in 1998, we started to see Nike issuing navy blue polo shirts to the coaching staff.Signs of what lied ahead.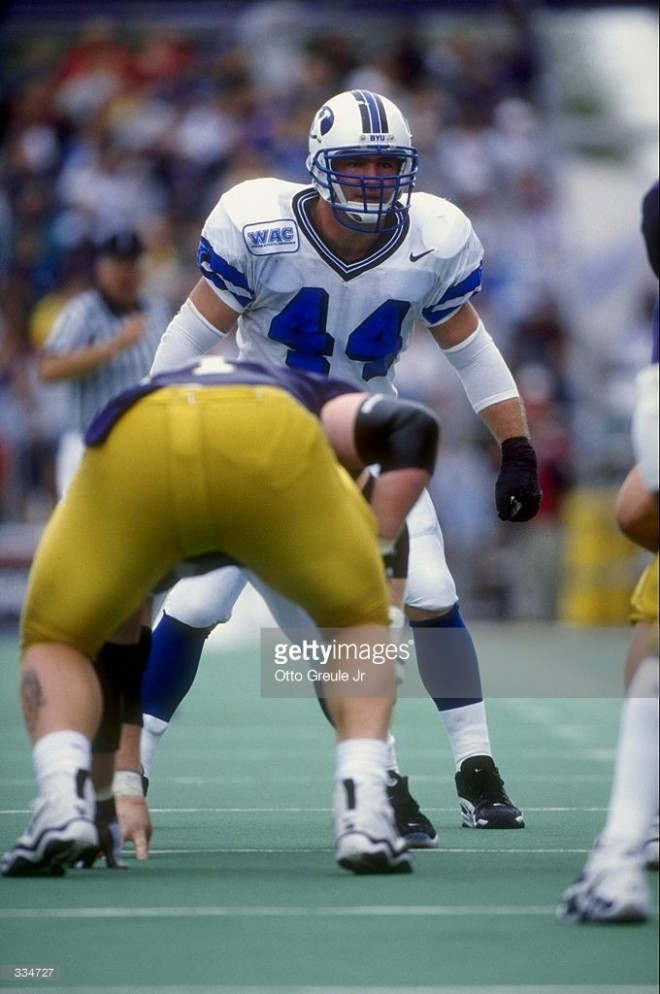 1999
Royal blue was out, navy blue and Vegas gold was now in. BYU and Nike gave the Cougar athletic department a complete rebrand in 1999. There were a variety of reasons for the change, but one reason in particular was to generate more sales in merchandise. The bibs lasted one season.
2000-2003
This set of jerseys only saw BYU play in one bowl game. Look good; feel good, play good I guess wouldn't apply here. Although I will say the all-white uniform looked alright.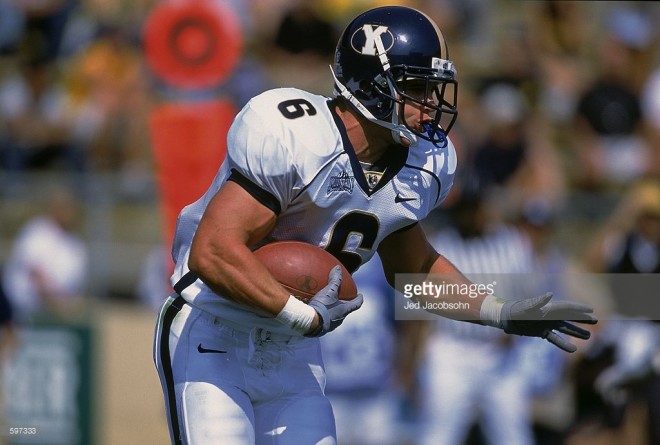 2004
Low key an underrated jersey here. Nike made these with advanced materials from the company at the time. Light weight and dried faster so jerseys wouldn't get so sweaty. Another interesting note on these was there were no last names on the back.
Another note on the 2004 uniforms was an A+ decal that was on the back of the helmet.BYU had a campaign throughout the university for students, student-athletes, and fans to be A+ in all things they do.The campaign only lasted one year.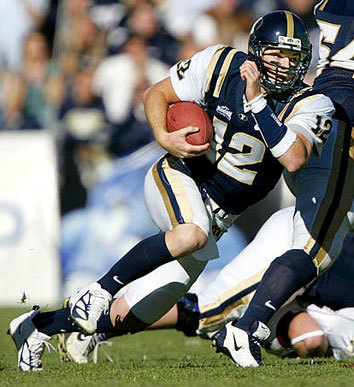 2005-2006
The return of the Oval Y and BYU's signature look, but in deepest shade of royal blue (or navy blue). Bronco Mendenhall asked for BYU's signature look to come back when he took over as head coach, and it came back to much fanfare.
Interesting note on these jerseys was that Nike didn't actually produce these. Usually takes two to three years for a jersey change to take place from Nike and with the sudden change after Mendenhall was hired, BYU had a third-party company produce the uniforms. Mendenhall also brought back BYU's classic helmet decals in a blue & gold variation. Blue was for performance on the field and gold decals were for academics and community service.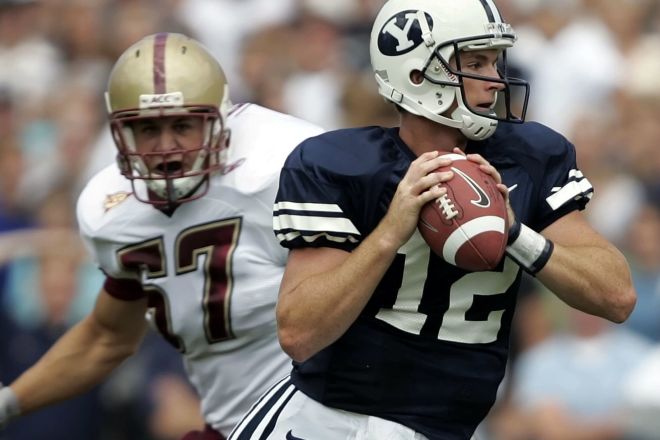 2007-2011
Nike started producing BYU's back to the future look starting in 2007.Stitched jerseys were now in place and an oval Y was added on the collar. New helmet decals featuring the sailor Cougar came into place in 2011. The stickers that were black were for special teams. Also, in 2011 BYU wore a special military helmet decal and stripes for the Armed Forces Bowl.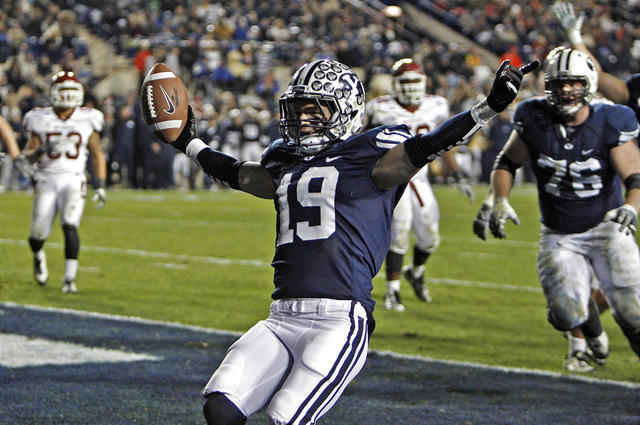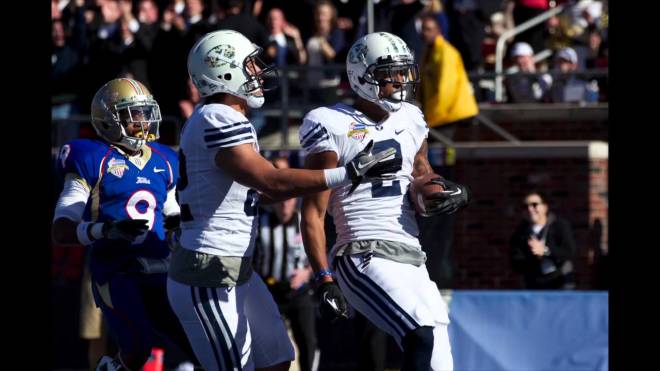 2009
Royal blue jerseys were brought back against rival Utah in honor of the 25th anniversary of BYU's lone National Championship. Throughout the regular season BYU wore a helmet decal on the back of their helmet for the 25th anniversary. The royal blue jerseys were also worn against Oregon State in the Las Vegas Bowl.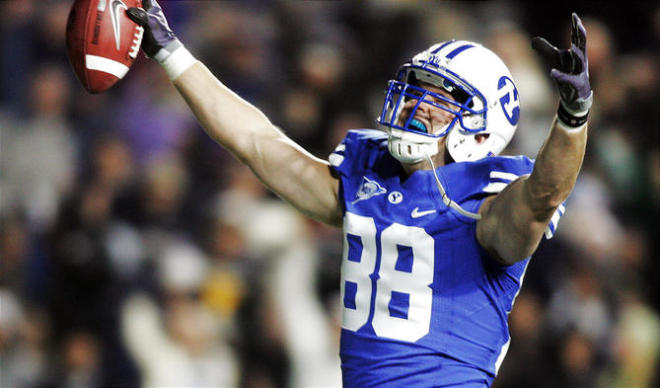 2012-Present
Nike's Flywire technology was added to the jerseys. Most noticeable change is in the collar. In 2014 BYU wore a special 9/11 helmet during the Houston game.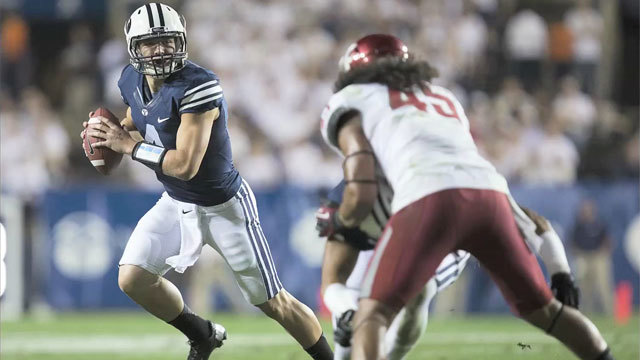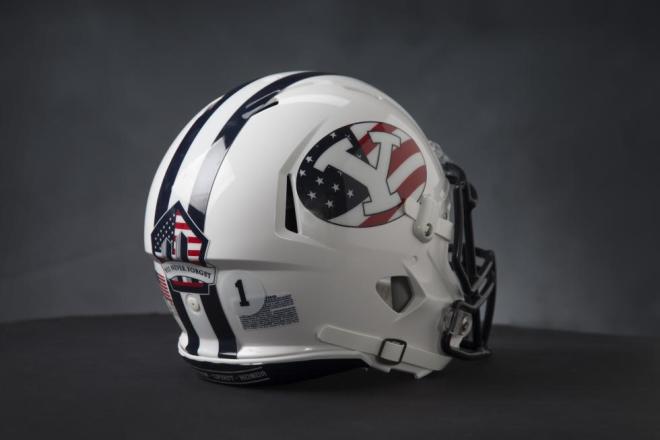 2012, 2014, rumored for 2016
Blackout jerseys made their debut against Oregon State in October 2012.BYU is 1-1 in the blackout uniforms and they are rumored to be wearing the black uniforms against UCLA in the home opener this season.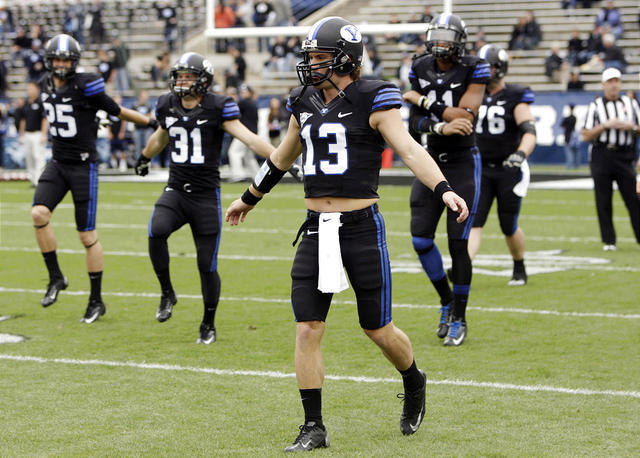 2013 & 2015
Royal blue throwbacks from the 2009 season made a comeback in 2013 against Utah and instead of the traditional white pants, BYU wore royal blue pants. BYU also had a new metallic royal blue helmet decal and chrome facemask. The Cougars were the same uniforms in 2015 against East Carolina for homecoming and the Vegas Bowl versus Utah, but instead of royal blue pants opted for the traditional whites.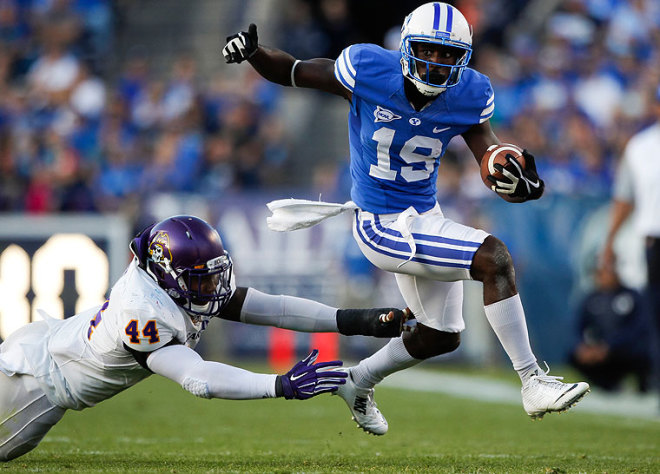 *********
What are your favorite uniforms that BYU has worn? Sound off on the Blue Zone message board or tweet us @Rivals_BYU.
Mitch Harper is the Publisher of Cougar Nation and the lead BYU reporter for 1320 KFAN in Salt Lake City. Harper hosts the weekly BYU podcast Cougar Center available on iTunes and 1320KFAN.com. Follow him on Twitter at @Mitch_Harper.